Tay Ninh: Enterprises Commit To Invest In Hi–Tech Agriculture
02/06/2023
The People's Committee of Tay Ninh province has signed many Memorandum of Understanding (MoU) with commitments to invest in high-tech agriculture.

The signing ceremony took place on June 2, right after the "Forum connecting businesses to invest and develop high-tech agricultural ecosystem in Tay Ninh province in 2023".

Breakthrough strategy on high-tech agriculture

Attending the Forum were Deputy Minister of Agriculture and Rural Development Phung Duc Tien, Mr. Daniel Stork - Consul General of the Kingdom of the Netherlands in Ho Chi Minh City, leaders of Tay Ninh province, domestic and foreign businesses, especially enterprises of the European Chamber of Commerce in Vietnam (EuroCham).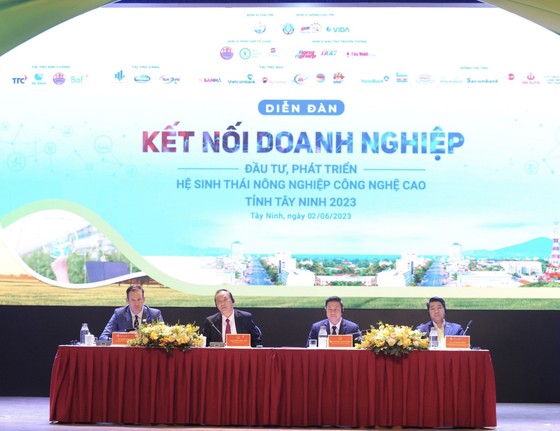 Representatives of Provincial People's Committee, VIDA, EuroCham answer questions from investors.

Sharing at the Forum, Chairman of Tay Ninh Provincial People's Committee, said that Tay Ninh has abundant soil, climate and water resources of Dau Tieng Lake, creating great potential in the development of local high-tech agriculture. . With an important geographical position, diverse advantages and large development space, Tay Ninh has identified four strategic breakthroughs, of which the development of high-tech agriculture along the value chain is one of the important breakthroughs. important.
"High-tech agriculture will contribute to speeding up the process of economic restructuring in rural agriculture towards multi-value integration, inclusiveness, sustainable development and Tay Ninh farmers can live and work. get rich from agriculture", the Chairman of Tay Ninh Provincial People's Committee expected.
Deputy Minister of Agriculture and Rural Development Phung Duc Tien also gave an objective assessment of Tay Ninh agriculture. However, in order to promote these strengths, in addition to local resources, Tay Ninh needs to mobilize investment resources from the private sector and FDI.
"With that spirit, I highly appreciate Tay Ninh province organizing an important and very meaningful forum today. This is a good opportunity for sponsors and investors to exchange information, explore opportunities, promote cooperation, and invest in business, especially in areas with great potential to bring benefits. for investors and help Tay Ninh develop quickly and sustainably," said Deputy Minister Phung Duc Tien.

Resource expectations from EuroCham

Mr. Vu Manh Hung, Vice Chairman of Vietnam Digital Agriculture Association (VIDA), Chairman of Hung Nhon Group shared that the group currently owns 15 member companies and the DHN chain system, with 1,000 hectares of land. camps in the Southeast and Central Highlands. In particular, the chain of agricultural complexes applying high technology DHN is a joint venture model with De Heus Group (Netherlands), also a member of EuroCham.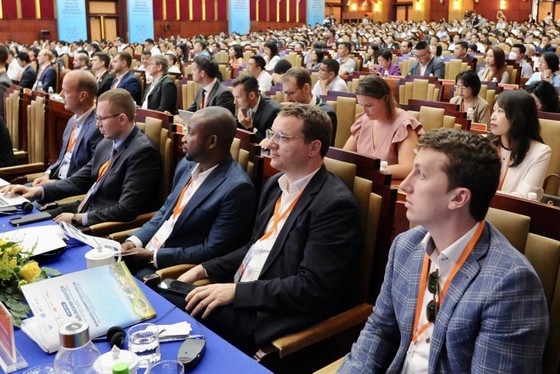 Many EuroCham businesses are present at the Forum

The DHN joint venture between De Heus and Hung Nhon aims to achieve a capacity of about 10,000 breeding pigs by 2030 in the Central Highlands; 200,000 commercial sows in the Southeast, South Central and Central Highlands; 58 million breeder chickens and 25 million broiler chickens in Tay Ninh. In addition, it is expected that by the end of 2023, a 14.8 million chicken breeder farm will be put into operation in Tan Chau district, Tay Ninh province.

"Hopefully through this connection, Tay Ninh will receive more international investors, especially businesses from Europe. With technology, experience and strong financial potential, EuroCham businesses will certainly invest successfully in Tay Ninh, contributing to changing the face of the local rural development towards sustainable development "- Mr. Hung shared. at the Forum.

New EuroCham President Gabor Fluit, assessed that Tay Ninh has a strategic position in the Southern Key Economic Zone with the role of connecting with the Cambodian market. Tay Ninh's role will increase even more strongly in the coming time when the Ho Chi Minh City - Moc Bai expressway is put into use.
With abundant land resources, Tay Ninh offers many attractive investment opportunities, including: agribusiness, high-value crops, aquaculture, food processing, and large-scale livestock. ... However, the problem of Tay Ninh's agricultural industry today is to develop in a sustainable way, meet green standards, and at the same time meet the import requirements of the EVFTA and EU", said Mr. Gabor. Fluit said.
As a co-organizer, Mr. Gabor Fluit shared his feelings: "The presence of the domestic and foreign business community at the Forum today has partly shown the potential and attractiveness of Tay Ninh. . EuroCham businesses and myself are very honored to be here to share and seek cooperation opportunities. All for the purpose of making a change for Tay Ninh in the near future."

MoU signing ceremony between Tay Ninh Provincial People's Committee, De Heus Vietnam (Netherlands) and Hung Nhon Group

EuroCham Chairman's affection for Tay Ninh is also the spirit of businesses sponsoring the Forum. Specifically, diamond sponsors are TTC Group, Hung Nhon, De Heus Vietnam, BaF Vietnam; Gold sponsors are Vinamilk, Toan Thang Veterinary Medicine Joint Stock Company, Minh Anh Construction and Trading Development Investment Company Limited.
Within the framework of the Forum, the People Committee of Tay Ninh province signed many Memorandum of Understanding (MoU). In which, there are many investment projects such as: MoU between Tay Ninh Provincial People's Committee, De Heus Vietnam ( Netherlands) and Hung Nhon Group, about surveying, reseaching and investing in a number of projects in the field of applied agriculture. High technology with a total investment of about 2,500 billion VND; MoU between Tay Ninh Provincial People's Committee and BaF Vietnam to implement the meat production and processing complex project with a total investment of 600 billion VND; Mou between the People's Committee of Tay Ninh province and Vinamilk implemented the project of a complex of dairy factories and dairy farms with an investment of VND 1,500 billion.


Via Sai Gon Giai Phong